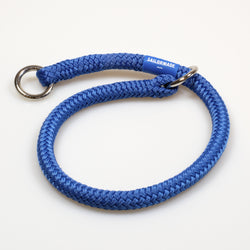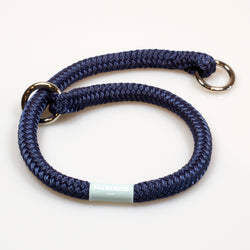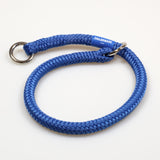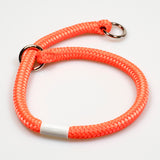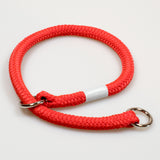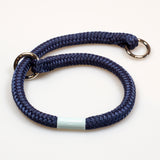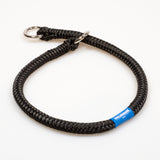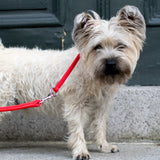 Riptide Reggie Rope Dog Collar
If he could, our dog Reggie would stay out on the boat barking at birds all day. When the dinner bell rings we have to get him from the dock to the car before we're late for supper. That inspired the Riptide Reggie Quick Collar. Easily slip this collar over your dogs neck and clip to our Riptide Reggie Leash. 
Made from nylon rope, skillfully crafted with two splice points and paired with superior brass hardware in a polished nickel finish. 
Made in the USA
S/M: 20" 
M/L: 28"
SIZING INFORMATION
Please check our Size Guide before ordering any of our products as this will help make sure you get the right fit.
HOW TO MEASURE YOUR WRIST
Please review the video below on how to measure your wrist for the perfect bracelet fit.
BRACELETS
It's best if your Sailormade bracelet fits snugly. We suggest that you measure your wrist with a flat measuring tape. Wrap it tightly around your wrist to get your measurement then find the corresponding bracelet size on the chart below. This applies to any bracelet in our collection. Note: not all bracelets are offered in every size. 
If you're buying for someone else, use this as a starting point. Our sizing is unisex; the most popular size for women is a Medium and for men is a Large.
Small

 6" wrist | 15.4cm
 Single: 7" Double: 14"

 

 

Medium

 6.5" wrist | 16.5cm 
 Single: 7.5" Double: 15"

Large

 7" wrist | 17.8cm


 Single: 8" Double: 16"


 

 

Extra Large

 7.5" wrist | 19cm


 Single: 8.5" Double: 17"
BELTS
We offer men's belts in sizes 32, 34, 36, 38, and 40. Sizing is simple. Just round up one step from your waist size. So, if your waist size is 34 or 35 then your belt should be a size 36.