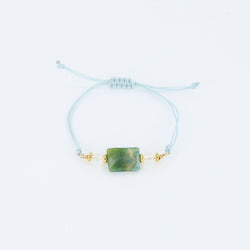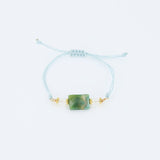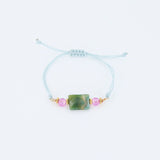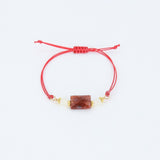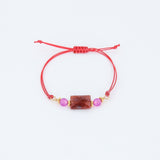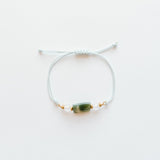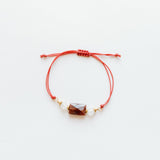 Limited Edition September '22 Rayminder UV Awareness Bracelet
The final Rayminder drop of the sunshine season is here.
The September Rayminder UV Bracelet will help transition your summer bracelet stack to fall. Each bracelet has a semi precious quartz stone flanked by two UV sensitive beads. 
Choose from two variations:
Strawberry red quartz stone with pink fashion cord

Evergreen quartz stone with sky blue fashion cord
This might be our last limited edition drop of 2022 but that doesn't mean the sun will stop shining. Whether you're somewhere hot or cold this autumn raymember that UV awareness is important all four seasons of the year. 
One size fits most.
$1 from every unit sold is donated to IMPACT Melanoma, a Boston-based nonprofit working to reduce instances of melanoma through awareness and education.
*Our UV beads are for fashion and awareness purposes only, cannot gauge the UV Index, and should not be used for medical purposes. UV beads will remain a pink/purple/color until removed from sun. 
SIZING INFORMATION
Please check our Size Guide before ordering any of our products as this will help make sure you get the right fit.
HOW TO MEASURE YOUR WRIST
Please review the video below on how to measure your wrist for the perfect bracelet fit.
BRACELETS
It's best if your Sailormade bracelet fits snugly. We suggest that you measure your wrist with a flat measuring tape. Wrap it tightly around your wrist to get your measurement then find the corresponding bracelet size on the chart below. This applies to any bracelet in our collection. Note: not all bracelets are offered in every size. 
If you're buying for someone else, use this as a starting point. Our sizing is unisex; the most popular size for women is a Medium and for men is a Large.
Small

 6" wrist | 15.4cm
 Single: 7" Double: 14"

 

 

Medium

 6.5" wrist | 16.5cm 
 Single: 7.5" Double: 15"

Large

 7" wrist | 17.8cm


 Single: 8" Double: 16"


 

 

Extra Large

 7.5" wrist | 19cm


 Single: 8.5" Double: 17"
BELTS
We offer men's belts in sizes 32, 34, 36, 38, and 40. Sizing is simple. Just round up one step from your waist size. So, if your waist size is 34 or 35 then your belt should be a size 36.