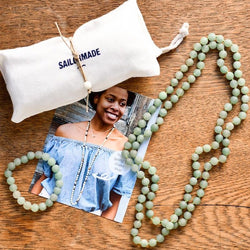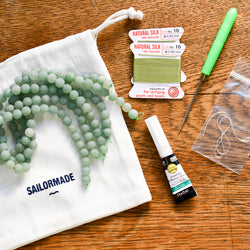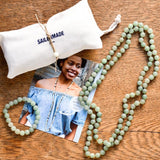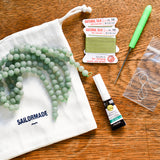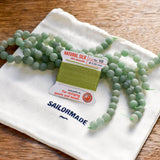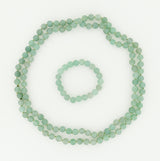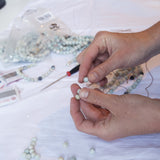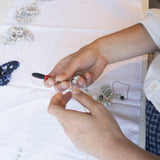 Whatknot Beaded Necklace + Bracelet Kit in Green Aventurine
Learn how to make a Whatknot Beaded Necklace and matching bracelet in Green Aventurine with our Sailormade DIY Kit. 
The Whatknot is a gorgeous 40" semi-precious gemstone beaded necklace knotted on a silk cord. Check out the finished product here. 
Now, you have the opportunity to learn a new skill and make this necklace yourself with our easy to follow instructions and video tutorials. Plus, we have included extra materials for you to create a beaded stretch bracelet to match. 
Inside your kit you will find: 
8mm frosted green aventurine beads

Silk beading cord & needle in green jade 
Practice cord
Awl
Glue
Stretch cord
Sailormade bag for safe keeping of your new favorite jewelry
PDF instructions on how to make your necklace

Video tutorials 
Once you learn this jewelry technique, you will be ready to hand make all your gifts this year. We've got you covered. Add an "Add-on" to your cart and receive extra materials to make an additional necklace. Choose from one of our 7 beautiful sea glass-frosted semi-precious gemstone options: amazonite, sodalite, howlite, green aventurine, rose quartz, tiger eye or agate. 
The Add-on includes: extra beads of your choice, beading string, bracelet elastic, and a Sailormade Bag. 
SIZING INFORMATION
Please check our Size Guide before ordering any of our products as this will help make sure you get the right fit.
HOW TO MEASURE YOUR WRIST
Please review the video below on how to measure your wrist for the perfect bracelet fit.
BRACELETS
It's best if your Sailormade bracelet fits snugly. We suggest that you measure your wrist with a flat measuring tape. Wrap it tightly around your wrist to get your measurement then find the corresponding bracelet size on the chart below. This applies to any bracelet in our collection. Note: not all bracelets are offered in every size. 
If you're buying for someone else, use this as a starting point. Our sizing is unisex; the most popular size for women is a Medium and for men is a Large.
Small

 6" wrist | 15.4cm
 Single: 7" Double: 14"

 

 

Medium

 6.5" wrist | 16.5cm 
 Single: 7.5" Double: 15"

Large

 7" wrist | 17.8cm


 Single: 8" Double: 16"


 

 

Extra Large

 7.5" wrist | 19cm


 Single: 8.5" Double: 17"
BELTS
We offer men's belts in sizes 32, 34, 36, 38, and 40. Sizing is simple. Just round up one step from your waist size. So, if your waist size is 34 or 35 then your belt should be a size 36.